When it comes to enhancing the beauty and functionality of your outdoor living space in Northwest Arkansas and Neosho Missouri areas, hardscape walkways are an excellent choice. Hardscapes not only add a touch of elegance but also provide durability and ease of maintenance. Cement pavers and native stone are both popular options for hardscape walkways. 2 J's & Sons would like to take a moment to discuss the unique characteristics, benefits of both. Native stone walkways or paver walkways and how to choose the best one for your landscape.
2 J's & Sons Hardscape Walkways: Native Stone vs. Pavers For Northwest Arkansas and Neosho Missouri
Native Stone Walkways
Why Choose Native Stone?
Native stone walkways are a natural choice for the Northwest Arkansas region. The stones blend seamlessly with the picturesque landscapes of Northwest Arkansas and Southwest Missouri. Using stones sourced locally not only enhances the aesthetics but also provides a sustainable option. Here are some key benefits of native stone walkways:
Rustic Charm: Native stone walkways exude a rustic, timeless charm that complements the natural beauty of the area.
Durability: These stones are known for their robust nature, ensuring your walkway withstands the test of time and varying weather conditions.
Low Maintenance: Once installed, native stone walkways require minimal upkeep, making them a practical choice for busy homeowners, or second properties.
Environmentally Friendly: Using locally sourced stone reduces the carbon footprint associated with transportation.
Price: Native stone walkways and other landscape projects with flagstone may have a steeper cost, as the stone is sold by weight. Lawn Love keeps an updated pricing page
Pavers Walkways
Why Choose Pavers?
Pavers are another fantastic option for creating hardscape walkways in Northwest Arkansas and the Neosho Missouri areas. They offer a wide range of design possibilities, and come with their own set of benefits:
Versatility: Pavers come in a multitude of shapes, colors, and textures, allowing for endless design possibilities. You can customize your walkway to match your unique style.
Ease of Repair: In the rare event of damage, individual pavers can be easily replaced without affecting the entire walkway.
Quick Installation: Pavers can be installed relatively quickly, which is a bonus if you're looking for a fast transformation of your outdoor space.
Cost-Effective: Pavers are cost-effective and offer great value for the beauty and functionality they bring to your landscape. Pavers are sold individually which may be more cost effective than flagstone. See our Aspen Cobble Paver project for more about paver pricing.
Choosing the Right Hardscape Option for Your Landscape
Now that we've explored the benefits of both native stone and pavers, how do you decide which one is right for your landscape in Northwest Arkansas or Neosho Missouri? Consider the following factors:
Aesthetic Preference: Think about the style and ambiance you want to create. Native stone provides a rustic, natural look. While pavers offer a wide array of design options for a more tailored appearance.
Budget: Pavers tend to be more budget-friendly initially, while native stone, though durable, might have a slightly higher upfront cost. The varying sizes, thicknesses and shapes may require more or less material.
Maintenance: If you prefer low-maintenance landscape options. Both native stone and cement pavers are great options. However, individual preferences may vary.
Longevity: Both options offer great longevity, but native stone is known for its natural, weathered look that improves with age. Native stone has already been around for a long time and cement pavers have been used, engineered and proven their strength since the Roman Empire.
Local Sourcing: Consider the ecological impact. Native stone, being locally sourced, might be a more sustainable choice. Pavers may be produced locally but some are made and then shipped from all over the country.
Whether you opt for native stone or pavers for your hardscape walkway in Northwest Arkansas and Neosho Missouri, you're making a valuable addition to your home landscape. The choice comes down to your personal preferences. Budget, and the ambiance you wish to create. Still can't choose? 2 J's & Sons is here to help you pick the best option for your landscape.
For expert hardscape walkway installation, contact 2 J's & Sons. Our experienced landscape team is dedicated to providing top-notch landscaping services and products. That reflect the natural beauty of the region while ensuring customer satisfaction. We serve the Bentonville and Bella Vista Northwest Arkansas area north to Neosho, Missouri. Get started on your dream hardscape walkway today!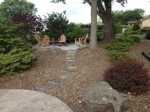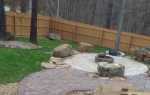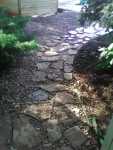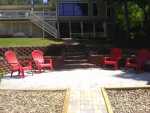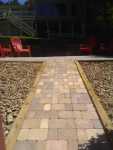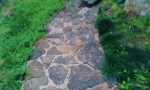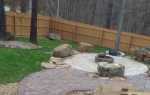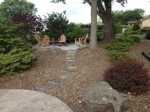 Give us a call or send a text to talk about your next garden or landscape project
Fill out our online form to schedule an estimate