Low maintenance landscaping is a great option for anyone looking for an easy way to maintain their outdoor space. The low maintenance approach requires less time, energy, and cost to keep up, making it perfect for those with busy lifestyles or health issues. Not only are these landscapes more budget-friendly and require less effort in the long run. They can also be friendlier to the environment. Native plants and local wildlife can do most of the work. Low maintenance landscapes are effectively their own self-sustaining small ecosystems.
What is Low Maintenance Landscaping
When it comes to low maintenance landscaping, native plants are the way to go. Not only do they enhance an area's aesthetic appeal, but these plants also provide food and habitat for animals and insects. Adding a small prairie of mostly native plants can attract wildlife like birds, bees and butterflies while creating a space that only needs minimal upkeep. Simple lawn solutions like leaving mulched grass clippings on the ground after mowing is a great practice for low maintenance. By doing this you ensure that seed and nutrient value is better maintained in the lawn. Simply practices add cost effective ways to maintain your lawn and landscape. Proper planning and design are the other big steps.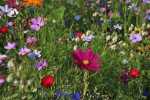 Drainage and Irrigation In Low Maintenance Landscaping
Correct drainage and irrigation are an important part of a low-maintenance landscaping plan, helping to prevent thousands of dollars worth of property damage in the long term. In some cases, dry creek beds can be used as hardscape features that also acts as drainage during rain storms. Dry creek beds also add curb appeal. The picture below illustrates how effective dry creek beds can be in a low-maintenance landscape design., check out our Pinterest board ↗ for more ideas. Irrigation is often necessary to keep plants alive during the hot dry summer we experience in the Ozarks. Irrigation can be expensive to install and maintain. It also comes with the added cost of more water. Choosing the correct plants for your area and needs is a large part of low maintenance landscaping. Plants can be added in to your drainage plans as a cost effective and low maintenance part of landscape design. Shrubs are a great choice. Native shrubs are often drought tolerant and help build native habitats.
Low Maintenance Landscaping With Hardscapes
Hardscaping is an important part of designing a homes landscape. Hardscaping is simply installing stone, concrete, retaining walls, and pathways to create an attractive outdoor area. Hardscapes add texture and contrast to softscapes or grass, mulch and plants. Hardscape features can help prevent erosion and better ensure the long-term health of your lawn and property. Strategically chosen hardscapes such as sitting areas or fire pits can drastically increase your property value and curb appeal, while offering both aesthetic and economic benefits in the long term.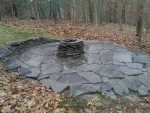 Artificial Turf For Low Maintenance Landscapes
If you're looking to create an attractive and low-maintenance backyard oasis, no-cut artificial turf may be a great choice. Consider adding some metal or stone edging, rock work, and drought-tolerant shrubs and artificial synthetic turf can be the perfect solution to eliminating the more routine lawn work like mowing and watering. This set up may be more costly upfront. It's worth considering if you have a busy lifestyle or travel frequently. Plus your lawn will always look great no matter what time of year. Synthetic grass can also be beneficial for homeowners with pools. It offers a softer surface than cement which is safer for children. It can also help avoid debris tracking into your pool or home. There are even dog friendly versions that make it easier to clean up after those inevitable messes! Ultimately, if real grass is preferred, search for types best suited to your climate and needs.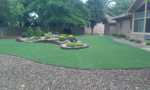 If you're considering low maintenance landscaping solutions, 2 J's & Sons is here to help. If you are in Southwestern Missouri or Northwest Arkansas, our team can help you create a plan that meets your needs. If you are not in our area and need help picking the right company for your lawn and landscape project we have some helpful tips to help you choose the right company. 2 J's can provide the necessary guidance to ensure natural habitats are constructed with eco-friendliness in mind. Contact us today for more information. Jeff would be glad to discuss any ideas you may have and help create an appropriate plan for your home or property.
Give us a call to discuss your next lawn or landscape project 417-772-4181