Holiday Lighting Services
Are you ready to take your holiday decorations to the next level? Look no further than 2 J's & Sons, your premier choice for holiday lighting services in Northwest Arkansas and Southwest Missouri. We've been spreading holiday cheer since 2017, and this year. Elevate your holidays with 2 J's & Sons' spectacular holiday lighting services. Transform your home into the best lite house this winter
Unleash the Holiday Lighting Rivalry:
Holiday Lighting rivalry on the lake. Do you have a friendly competition with your neighbors to see who can create the best-lit house in the neighborhood? We're here to make sure you come out on top. Our experienced crew loves nothing more than turning your unique holiday lighting ideas into reality.
Lights, Lights, and More Lights:
Last year, we took part in a spectacular holiday lighting rivalry on the lake, and the results were nothing short of dazzling. We used a whopping 3500 feet of white lights and 400 feet of multicolored lights along the roof. That's nearly 20,000 Christmas light bulbs! Our customers chose white lights mainly due to the weather forecast, but it ensured their home was a beacon of Christmas cheer.
Technical Expertise for a Dazzling Display:
One of the most challenging aspects of this project was spreading out the lights on different breakers and ensuring enough plugins. But we're up to any technical challenge to make your holiday lighting dreams come true.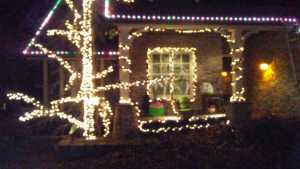 Planning for the Future:
At the beginning of the year, we'll carefully take down and store your lights, ready for next year's holiday season. And yes, we're always looking to improve. If you want to add more lights, illuminate additional trees, or even sync your lights to music for the ultimate holiday experience, we've got you covered.
Get Ready for Next Year's Showdown:
The question is, who will have the best-lit house next year? With 2 J's & Sons by your side, the answer is clear – you! Don't wait until the last minute to book our holiday lighting installation services. Make your Christmas unforgettable with a dazzling display that will leave your neighbors in awe.
When it comes to holiday lighting in Northwest Arkansas and Southwest Missouri, 2 J's & Sons is your trusted partner. Contact us today to discuss your holiday lighting ideas and let us turn your home into a winter wonderland that shines brighter than ever before.
Give us a call or send a text to talk about your next garden or landscape project
Fill out our online form to schedule an estimate