This job was a lot of fun and looked amazing when it was completed. It took a little longer than expected and more stone than we originally estimated. Part of that could have been that the homeowners liked it so much they added a longer wall to the project.
Hardscape Retaining Wall
Eight tons of native stone and two pallets of concrete. One hundred and fifty blocks and one hundred and fifty bags of mortar later. The end result was a low retaining wall about two hundred and forty feet long that wrapped almost all the way around the house.
The back of the house sits up against a small hill, and all of the water runoff from the roof runs into a built-up gravel bed that used to be held in place by landscape timbers. Over the years the timbers began to rot and break down. So the new native stone retaining wall should last longer and help with erosion control around the house. Unfortunately, we didn't get any pictures of the back.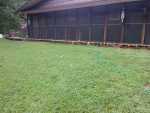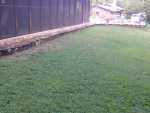 Native Stone
One of the hardest parts was finding enough native stone to match the existing rock-work. After we found a rock to closely match the stone that had been on the property for years the wall got longer. So it was back to the rock yard to try to find more rock with just the right coloration. The new inventory wasn't as spot on with the existing stone color and texture, but we were able to get it pretty close.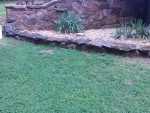 In the end, the customer was very happy and is glad to have the last big project for the property done.