When it comes to landscaping choosing the right products and materials can be hard. Choosing the right type of stone or rock can be the difference between a great new backyard landscape or disaster. Northwest Arkansas offers a variety of stone and rock choices, flagstone, fieldstone, river stone and many more. It's important in landscaping to pick the correct stone for your next project. Lets look at some different types of stone and rock commonly used to landscape with in Northwest Arkansas.
The Right Stone For Landscape Design
Start by considering your project's purpose. Is you next landscape project a pathway, a retaining wall, or an outdoor living feature like a firepit or outdoor kitchen? Each stone type has unique qualities that suit specific landscape applications.
Next, think about color and texture. Visual appeal is a big part of landscaping. Ensuring that the selected stone complements the surrounding elements and existing landscaping. Take other features like the color and type of siding on your home or other nearby structures into consideration. It may be hard to find the exact color of natural stone or rock you want with the texture your landscape design calls for. Fortunately, most types of natural stone come in many color variants. Color-matching new stones may be difficult. Luckily finding a complementing stone color in the appropriate stone type is often possible.
Finding Sustainable Hardscape Rock
Sustainability can be a crucial factor when designing a new landscape. Opting for locally sourced stones, like Native Arkansas Stone, not only adds a touch of regional authenticity. It also reduces environmental impact. Local rock yards often carry a lot of locally cut stone. It is more sustainable to use local hardscape materials that have not been shipped across the country. All hardscape materials are heavy. The weight makes them more expensive to ship and more likely to be damaged during transport. Locally sourced native stone and rock are generally cheaper. This helps keep the overall project cost down.
Broken Stones and The Cost of Choosing The Wrong Stone
Using locally produced stone also cuts down on the amount of broken material. Less broken stones means less waste. Stone and rock are sold generally by the pallet. As a landscaper having to buy less pallets and being able to utilize every piece of material saves on job cost. The last thing 2 J's wants is to have to tell a customer that the materials come up short. Due to broken stones and we don't have anything that matches and will need a whole new pallet of stone to finish. A pallet of stone cost roughly $350 depending on the type and source. Best case we can work with you and buy back the unused material or hopefully find a way to incorporate it into your landscape in another way.
It is important to carefully weigh these factors with your landscaper during the design process. Then an informed choice can bring your landscape vision to life. In a sustainable and cost effective way. while preserving the natural charm of the Northwest Arkansas
Types of Landscaping Stone and Rock Most Used In Northwest Arkansas
Flagstone
Flagstone, with its flat, and naturally irregular shape. It ranges in thickness from 1 to 3 inches, but may be thicker or thinner. It comes in a wide ranges of colors including reds, browns and blues. Flagstone is a popular choice for creating elegant and timeless pathways and patios. The unique colors and textures of flagstone bring a touch of rustic charm to your landscape. Flagstone is durable and low maintenance make it ideal for the local climate.
walkways and paths
patios and sitting areas
retaining wall caps
Fieldstone
Fieldstone, is rounded and somewhat smooth. It is native to the Northwest Arkansas region. It offers a more rugged and natural appearance. Fieldstone is perfect for creating retaining walls, garden borders, and outdoor fireplaces. The irregular shapes and earthy hues of fieldstone add a sense of authenticity to your landscape.
retaining walls
garden borders
fireplaces and firepits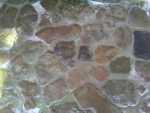 River Stone
River stones are smooth and rounded. Making them excellent for water features and decorative accents. They come in various sizes and colors, allowing you to create visually pleasing compositions. Incorporating river stones into your landscape design can add a soothing and serene atmosphere to your outdoor space.
decorative accents
water features
rock gardens
garden bed filler
Native Arkansas Stone
Native Arkansas Stone, sourced locally, is a testament to the natural beauty of the Northwest Arkansas and Ozark regions. It is a lot like flagstone but often cut in thicker pieces. It comes in a variety of colors including grays, whites and veins of red. It Arkansas Stone often contains minerals like quarts and iron. Iron is visible in red or rusty colored veins. The iron content makes it great for handling heat in landscape applications like firepits. Native Arkansas Stone has distinct colors and patterns that are a reflection of the Ozark Mountains. This stone is perfect for creating custom firepits and retaining walls, giving your landscape a touch of regional authenticity.
firepits
retaining walls
patios and sitting areas

Native Tennessee Stone
Tennessee Stone is very much like Northwest Arkansas Native stone and flagstone. It comes in cooler colors like grays and blues similar to slate. This stone is much more durable than slate and does usually contain some iron. Tennessee Stone makes great walkways, patios and firepits. It may travel a little farther than our local native stone but is still fairly close.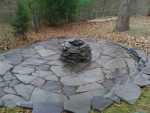 How To Choose The Right Landscaping Stone
Consider the purpose of the landscape project: Assess your landscaping needs and choose the stone type that aligns with your goals.
Color and texture: Pick stones that complement the existing elements in your landscape.
Sustainability: is opting for a locally sourced stone to reduce environmental impact important to you or will it take away from the overall landscape design?
Need Help Choosing The Best Landscape Stone
In the scenic landscapes of Northwest Arkansas and Neosho, Missouri, the choice of landscape stones is crucial in achieving the perfect balance of form and function. By understanding the characteristics of different landscape stones, you can create an outdoor living space that reflects the beauty of the region. If you need more help with your next landscape design and build 2 J's & Sons lawn and landscape is just a call away.
Give us a call or send a text to talk about your next garden or landscape project
Fill out our online form to schedule an estimate