Landscaping Steep Yards
This is a gorgeous spot located on a little lake in Bella Vista, AR. The very steep grade of the backyard going down to the lake presented many challenges. The sidewalk leading down to the lake is so steep that you have to almost lean backward in order to walk down it. The homeowners were almost unable to use this entire backyard safely. They just had their house build and the landscaping was over looked. Our challenge make the backyard more family friendly on a budget while the homeowners take a break while deciding their long term backyard expectations.
2 J's loves to work with a landscaping design challenge. Blank canvases sometimes impose a landscape design challenge all of their own when it comes to budget. 2 J's loves to work with customers on a budget. We have helped many customers understand that landscaping is a constantly changing and never ending canvas. Once the main idea and bones of a project are decided and laid out well, the rest can come later.
Staying On Budget For A New Landscape
Landscaping steep yard properties on a budget can be tricky. Short low terraced retaining walls can be strategically placed to level out smaller areas. Material cost is always a large part of any landscaping build. You can't escape using a certain amount of materials in landscaping. Drains, plants, seed or sod are a large part of necessity landscape materials. If smaller walls can be used strategically less materials will also be used, cutting down on material costs.
In landscaping if patience is not a virtue it is at least a cost saver. Waiting for grass seed to grow can take awhile but it is a lot more budget friendly than sod. Grass seed will often have a better root structure after it is established compared to sod. Seed takes less water than sod, because the seed is not stressed the way that sod is during transport and installation.
Adding plants to a new landscape design can be similar to the choice between grass seed or grass sod. Smaller plants are most often cheaper than more mature plants. Unlike with sod smaller plants are not always the best option because a more mature or larger plant can often with stand more stress than a smaller less mature plant. Our landscaper tip when it comes to plants is that if you do not have the time or automation set up to care for new plants diligently go with the more mature plant. More plants can always be added later to fill in bare spots. It may take a few years to reach your desired out come, but in the end you, gardener or landscaper will better understand your area and have a better idea what will grow well. We know that waiting is not always everyone's cup of tea but what you want the end result to look like may change as you landscape begins to fill in. Our most cost effective tip is to take it slow so you know what your really want from your landscape. Later can often lead to a more cost effective low maintenance landscape that meshes better with daily life.
Before Landscaping Started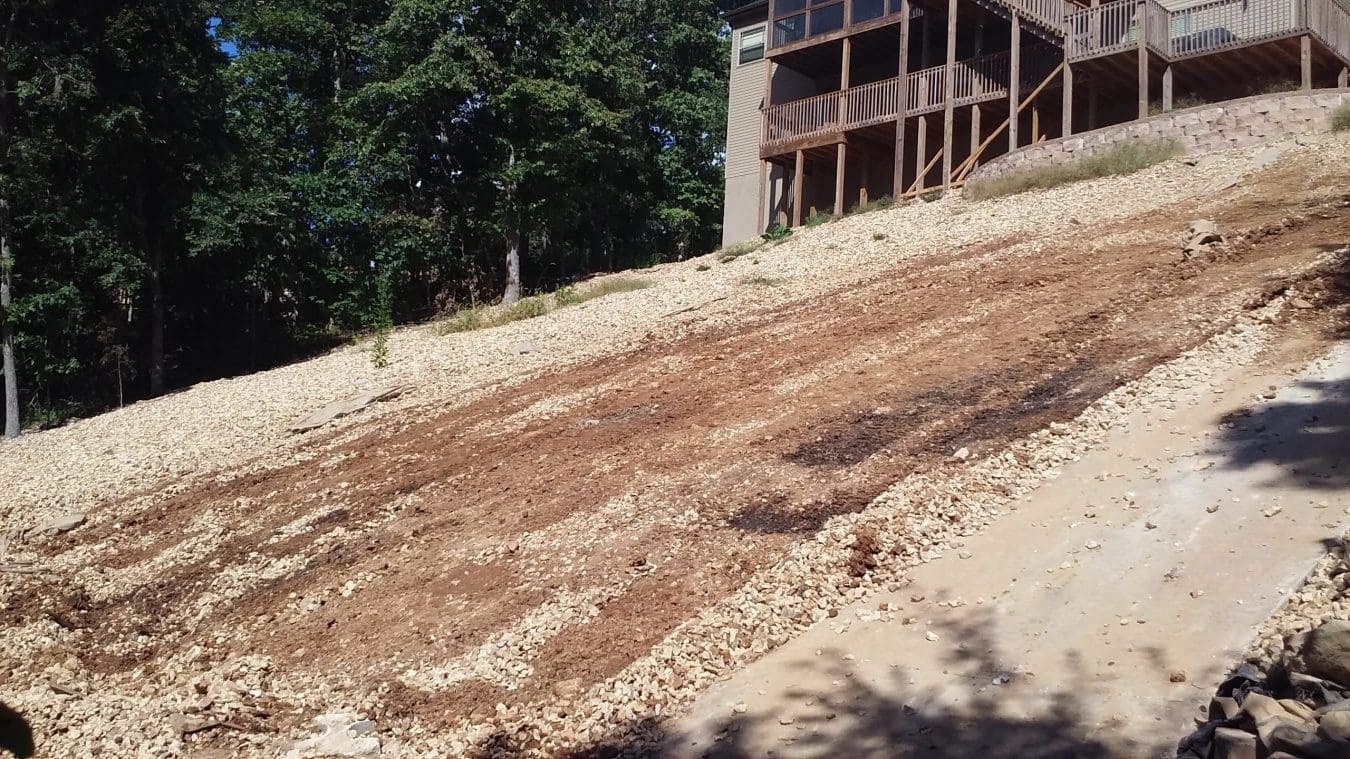 During Landscaping
The entire backyard was originally all covered in gravel with only two retaining walls. You can see the first section of terraced retaining wall up by the house. Builders often just put a smooth grade on new the areas surrounding a newly built house while the owners decide how they would like it to be finished out.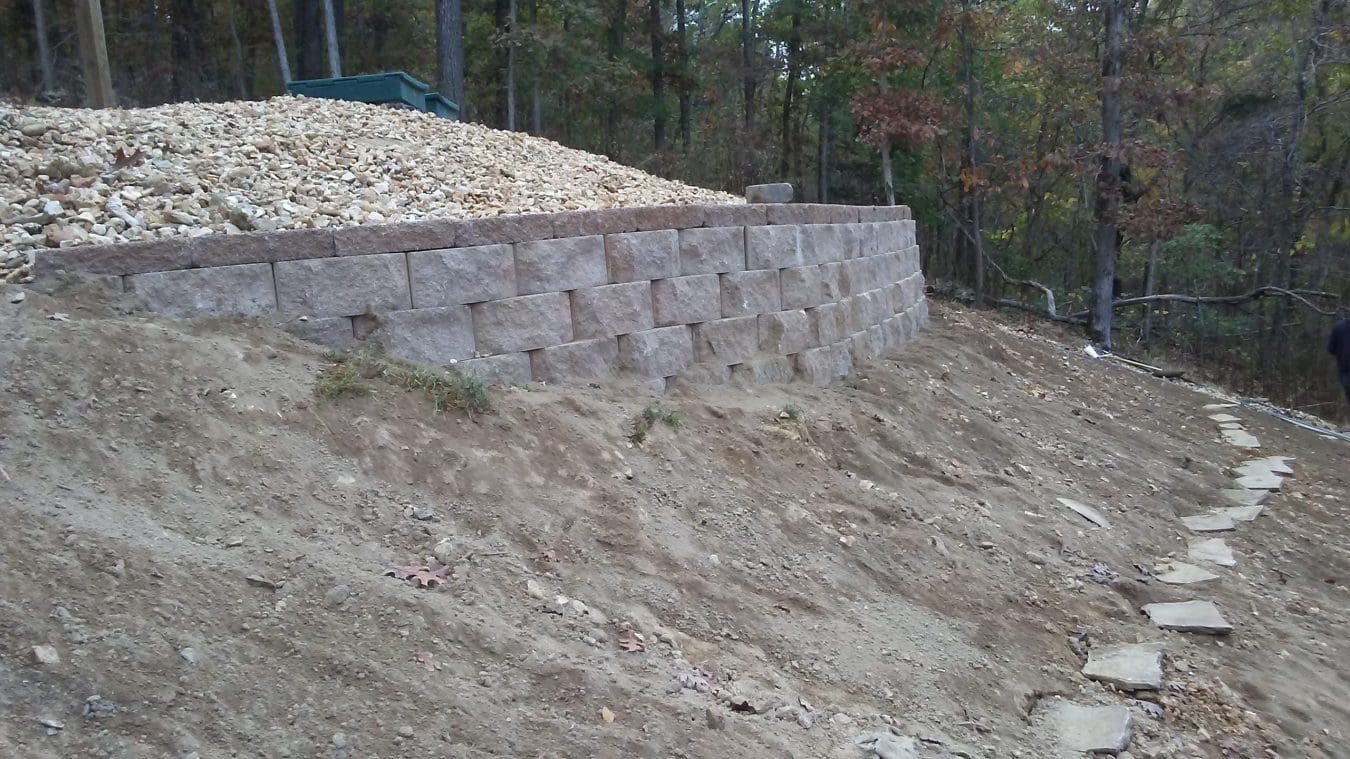 The gravel below the original wall has all been cleared away. The first native stone walkway is in the process of being laid out.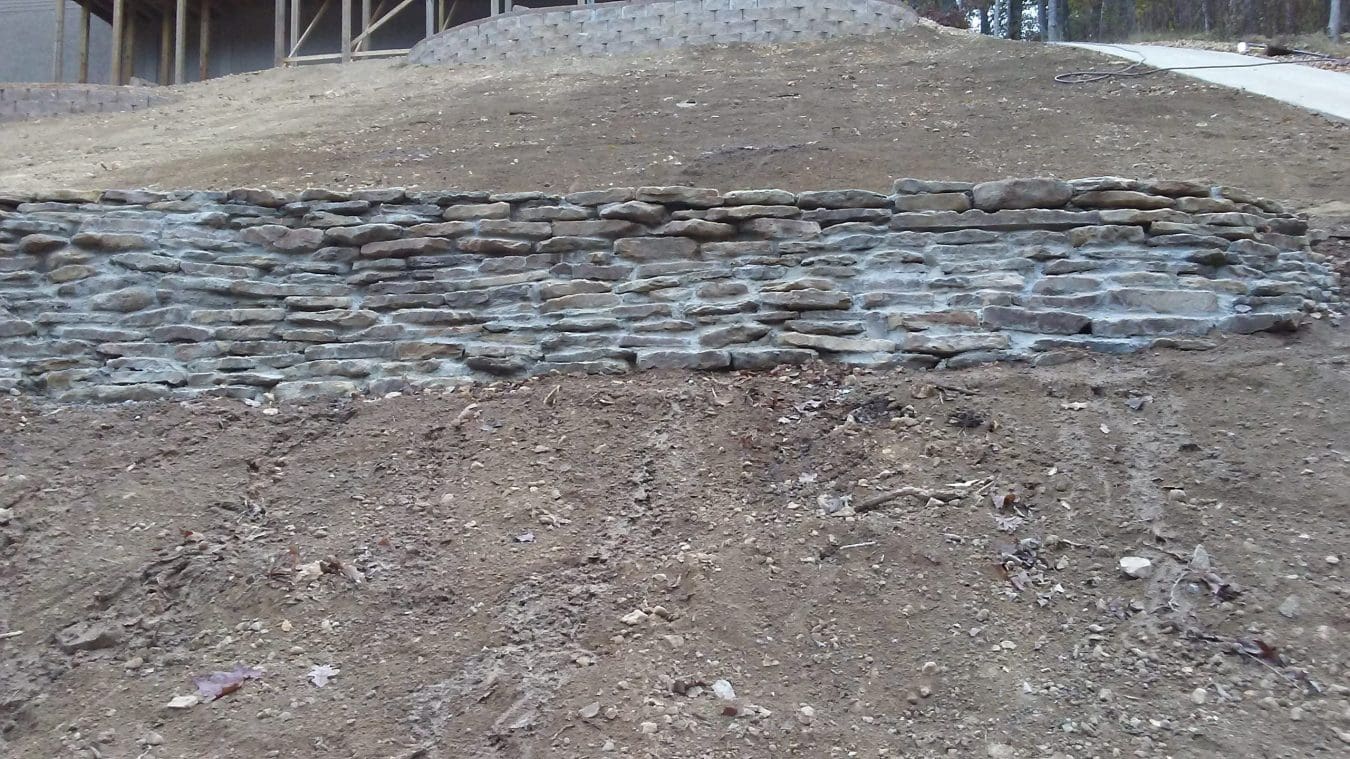 The first terraced native stone retaining wall is starting to come together.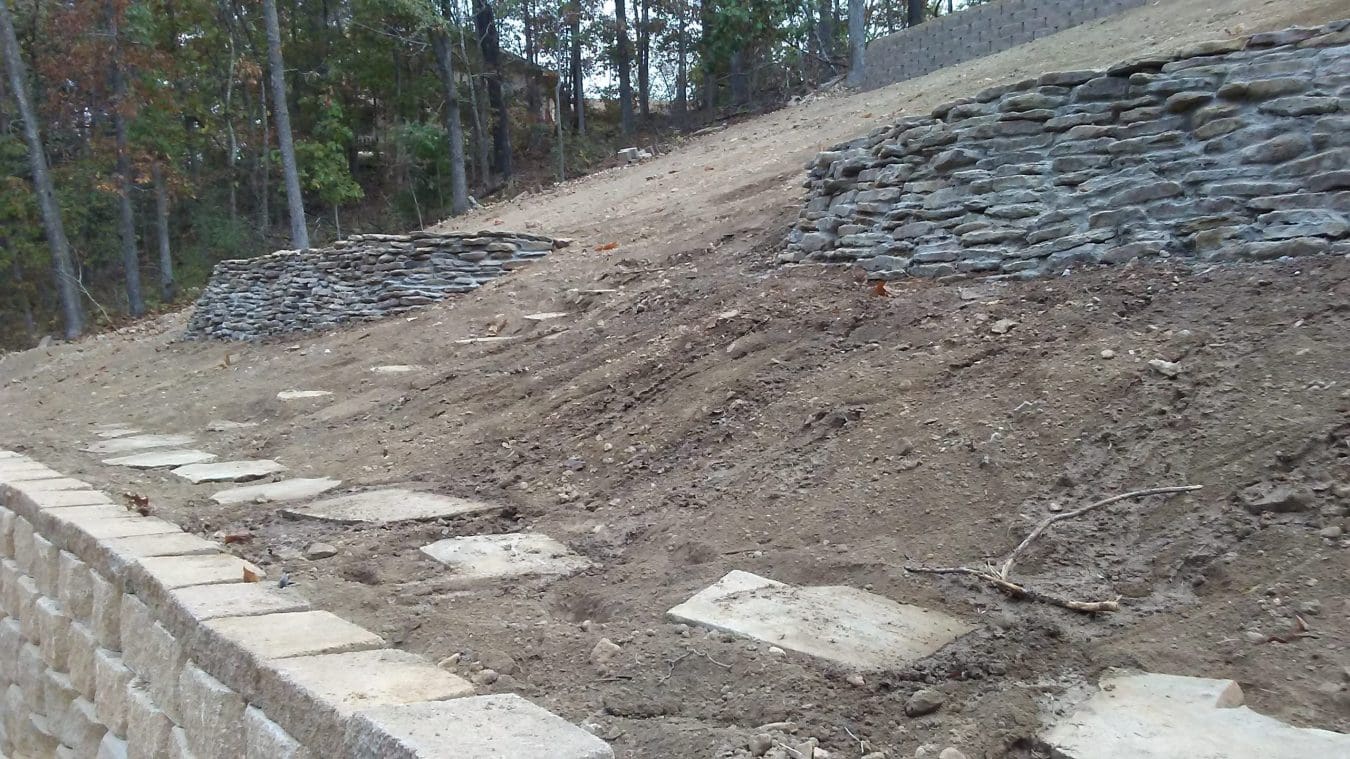 Both Native Stone walls are in place with steps and a pathway. Smaller strategically placed retaining walls can be more budget friendly than a larger longer and taller wall that would use more materials. Lower walls require less engineering and fewer tie backs. The unseen cost of retaining walls in the base and tie backs that are not usually seen on the completed wall if it has been properly constructed.
If a retaining wall or sea wall is not properly engineered and tied back into landscape it will begin to lean and fall as the ground around it settles. It is worth cost upfront to have a properly engineered wall build. In most cases a wall that was not originally built with tie backs can be re-built with most of the same materials. However, the labor cost of disassembling ang rebuilding to meet code and engineering standards if very expensive.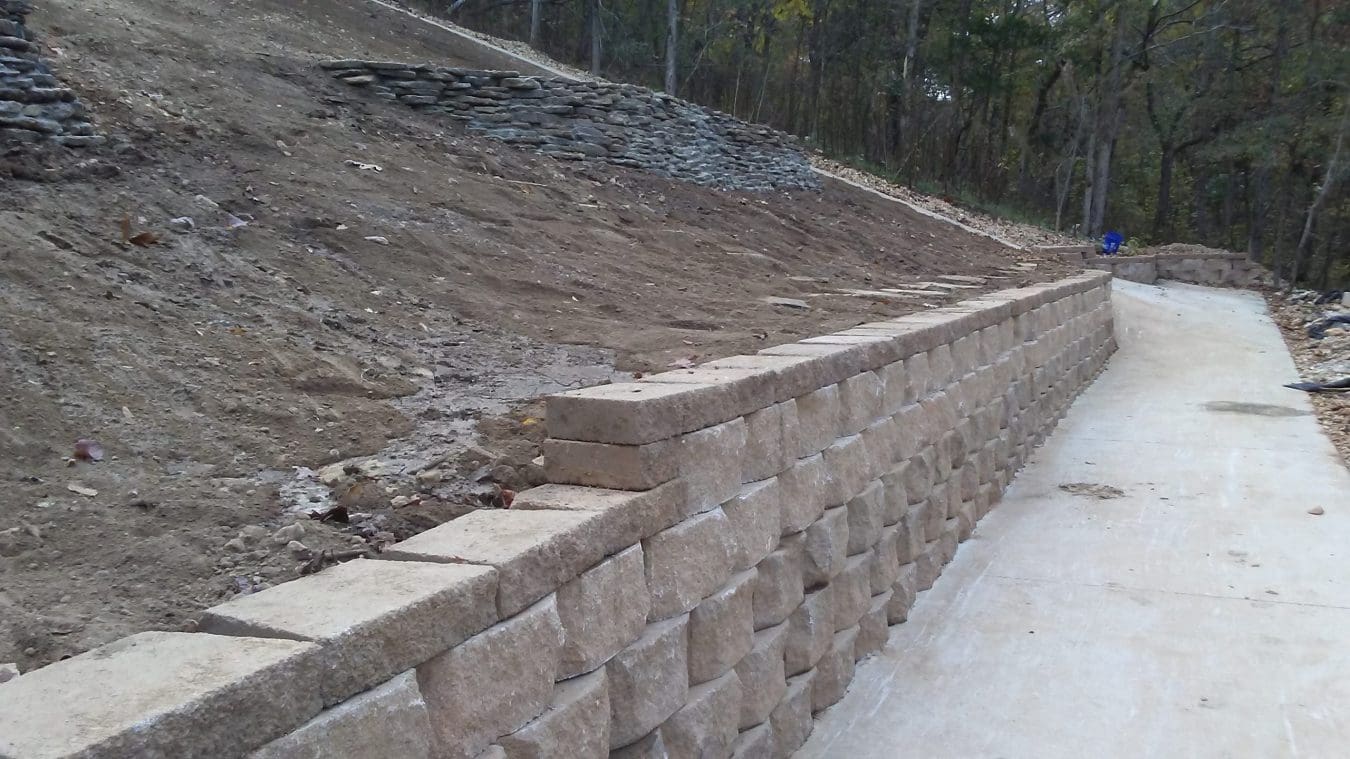 The bottom terraced retaining wall was raised. These blocks are a product made by Keystone. They are very durable and engineered for support. We would recommend them for any similar projects, they will do their job for a very long time.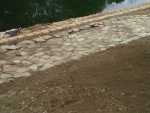 This is the native stone sitting area built on top of one of the retaining walls. The perfect place to enjoy a morning cup of coffee, or just look at the lake.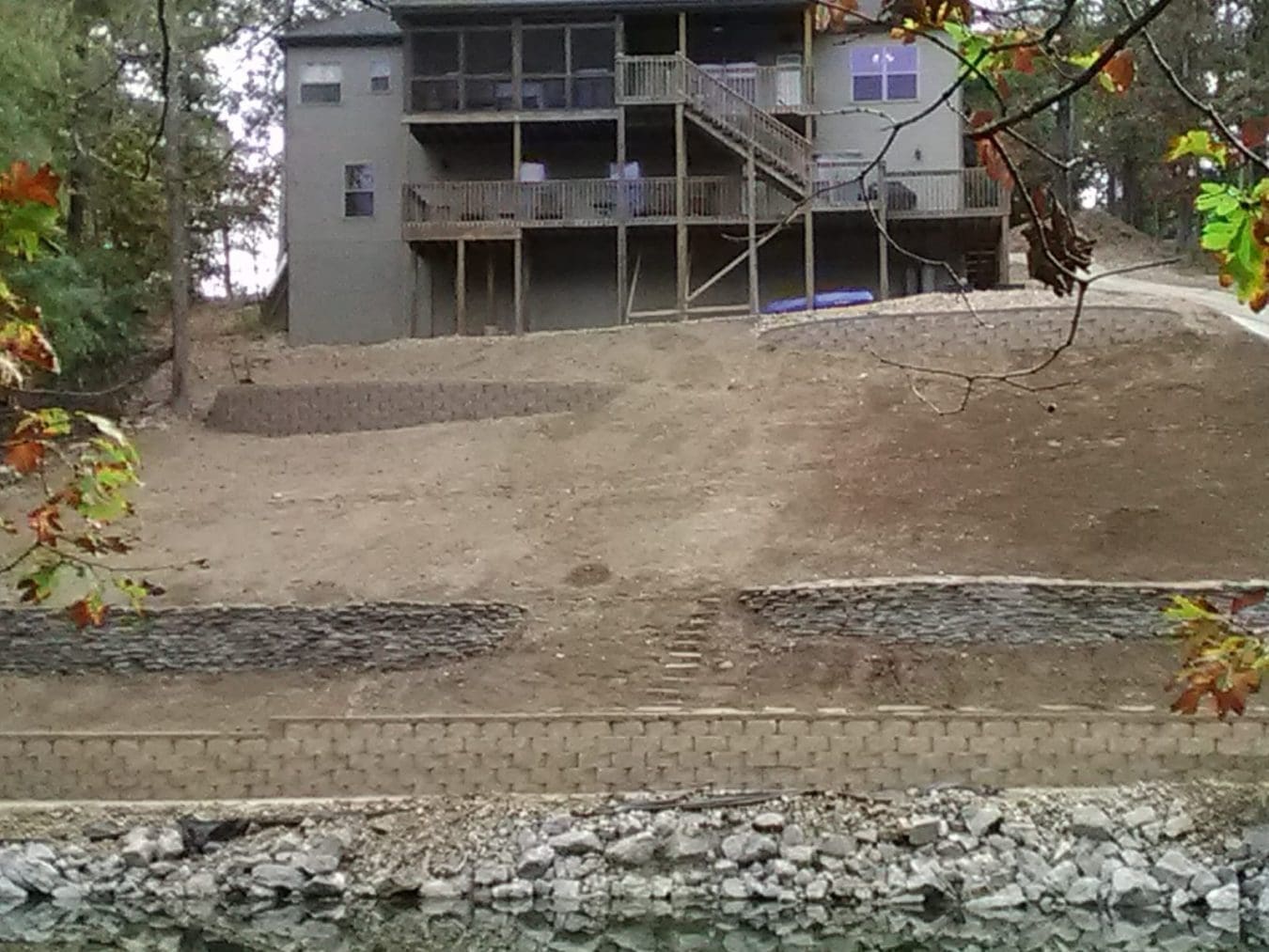 We can't wait for the newly terraced retaining wall areas to fill in with grass, and maybe sedum or another ground cover to add more color. The homeowners now have a very nice sitting area and are able to safely bring their paddleboat to and from the lake. Their landscaping journey has just started and we can't wait to see what they decide.