Low maintenance landscaping virtually maintains itself. Making it more cost-effective and less hassle for those with busy lifestyles. In many cases, low maintenance landscapes are greener and have a smaller carbon footprint as well as encouraging local animals and insects to do most of the work with native plants. Low maintenance landscaping is in a way its own sustainable ecosystem.
What is Low Maintenance Landscaping
Native Plants
Low maintenance landscaping may include native plants that are acclimated to your area, for example, drought or frost tolerance. These plants also already provide food and habitat for local animals and insects. They bring in native birds and pollinators to contribute to the ecosystem and keep it running smoothly. Local pollinators in many cases reduce pest insects that can destroy a garden habitat in a short period of time. Often before you see them.
Adding a small self-sustaining prairie to a section of your lawn or backyard of mostly native plants can make a low-maintenance landscaping habitat that is wonderful to look at and attracts life to observe year-round. At most you might want to cut it once a year or maybe every other. This helps keep unwanted saplings to a minimum but do remember to leave your clippings for the seed and compost value. I recommend this for your yard as well if you have one.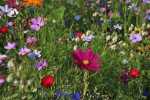 Drainage and Irrigation
Proper drainage and irrigation make up a large part of low-maintenance landscaping and can save thousands of dollars in property damage down the road. In some cases, drainage is hardscape like in the picture below. Dry creek beds work well in low-maintenance landscaping and in many cases can add curb appeal too, check out our Pinterest board ↗ for more ideas.
Hardscape
Hardscapes are cement, stone, retaining walls, sidewalks, or any other hard surface added to the lawn and landscape. Hardscaping can help minimize wear and tear on a lawn, help with erosion control, or simply add curb appeal and fun backyard experiences. Any well-done hardscape should also add value to your property. Sitting areas and fire pits are some of our favorite hardscapes for low-maintenance landscaping.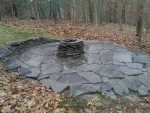 Artificial Turf
No-cut artificial turf with edging, rock work, and drought-tolerant shrubs creates an eye-catching and relaxing oasis. This low-maintenance landscaping setup cuts out the back-breaking work of mowing and watering. It also gives you the peace of mind that you will never have a patchy brown spotted lawn again. This can be a lot more expensive, to begin with, but in the end, artificial turf may be worth the investment if you travel frequently or don't have the time to take care of a lawn. No-cut grass helps alleviate the worry about your yard while on vacation or business trips.
Add artificial turf around a pool for a softer and more child-friendly surface than cement along with helping to avoid tracking in as much debris.
There are also dog-friendly versions of no-cut artificial grass that are easy to wash and maintain. If you prefer real grass be sure to select a type that is suited for your area and needs.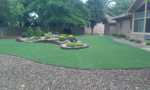 Low maintenance landscaping is an important part of any lawn or landscape. It can help save time and money, provide natural habitats, and cut down on the carbon footprint of your home. If you are interested in low maintenance landscaping give 2 J's & Sons a call Jeff would love to talk to you about your ideas and help design a plan for your needs or interests.