Imagine the cozy warmth of a fire on a crisp evening, surrounded by the rustic charm of a Grey Blue Tennessee Flagstone Firepit. If you're seeking the perfect addition to your Northwest Arkansas outdoor living space, this fall 2 J's & Sons recommends this flagstone.
Grey Blue Tennessee Flagstone Firepits: Elegance Meets Functionality
Grey Blue Tennessee Flagstone is, known for its unique blend of cool grey and subtle blue tones. It is a natural choice for creating captivating firepit designs. This flagstone has a stunning aesthetic appeal. Combined with the durable properties of flagstone. This stone will makes an excellent choice for hardscapes in Northwest Arkansas and Anderson Missouri.
Why Choose a Grey Blue Tennessee Flagstone Firepit?
Aesthetic Excellence: The grey-blue hues of Tennessee Flagstone add a touch of sophistication to your outdoor space, creating a welcoming and inviting atmosphere.
Durability: Tennessee Flagstone is known for its strength and longevity, ensuring your firepit will withstand the test of time and various weather conditions.
Customization: The versatility of flagstone allows for creative and unique firepit designs tailored to your preferences. Or matching your existing landscape style.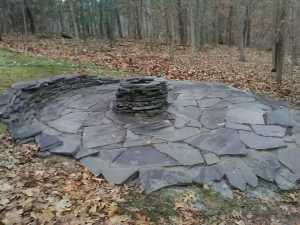 Flagstone Firepit with Retaining Wall
2 J's & Sons designed and built this Grey Blue Tennessee Flagstone Firepit. It was designed with a matching retaining wall to complete the firepit and patio . The subtle elegance of the flagstone extends beyond the firepit itself. This beautiful retaining wall firepit outdoor living space, adding both style and functionality to this landscape. This dual feature not only provides a cozy gathering spot but also ensures that the outdoor space is both aesthetically pleasing and structurally sound. When you combine the timeless charm of a Grey Blue Tennessee Flagstone Firepit with a matching retaining wall and patio , you create a harmonious outdoor retreat that's perfect for hosting gatherings, enjoying nature, and making lasting memories.
2 J's & Sons Added Firepit Design Features
The 2 J's & Sons flagstone firepit was designed very narrow to accommodate the space. Our landscape team took the narrow design into consideration. They built two clean outs into the bottom of the pit. These spaces provide airflow to keep the fire going and also make getting a fire started quickly much easier. This firepit setup would make a great addition to almost any small outdoor living space in Northwest Arkansas or Anderson Missouri.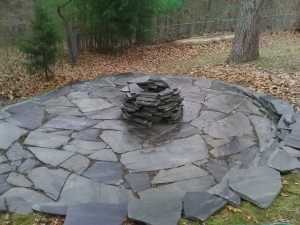 Flagstone Firepit Price
Flagstone Firepit
Design and Installation
by 2 J's & Sons
National Average Price
see more about landscaping prices for flagstone landscaping at Lawn Love
Give 2 J's & Sons a Call For a Custom Designed and Installed Firepit
Elevate your outdoor living space with the timeless beauty and functionality of a Grey Blue Tennessee Flagstone Firepit. Picture yourself and your loved ones gathered around the warm glow of the fire, enjoying the ambiance and charm a firepit provides in your outdoor space.
Give us a call or send a text to talk about your next garden or landscape project
Fill out our online form to schedule an estimate